Wrangler launches Denim Spa for Women
Like other jeans makers, Wrangler, has also decided to try pampering the fairer sex. The jeans manufacturer, which generates 20% of its sales with women's fashion, is launching the Denim Spa line for Spring-Summer 2013.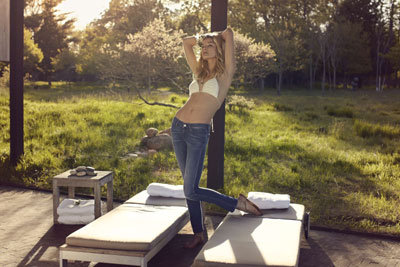 Wrangler enters the cosmetic textiles market
Wrangler is offering three so-called cosmetic jeans with therapeutic benefits: two that hydrate the skin (aloe vera or olive extra) and one that contains anti-cellulite agents. "The brand was born in 1947 and, for the cowboys, it already combined function and fashion. But how to create an innovation that speaks to women," said Adam Kakembo, vice president of product marketing Wrangler, EMEA.
The line's jean shapes are skinny or slim fits, obviously to stay close on the skin. Molecules encapsulated in the fabric last for about 8 washes, and Wrangler is offering a spray that customers can use to refresh their denim. "There is a POS display and materials for creating window displays to communicate the product," said Martial Biraùmbeaux, director of France Wrangler. Denim Spa jeans will be offered at retail for between 80 and 100 euros.
Wrangler is not the only one active in cosmetic textiles. Some brands like
Salsa
already brought out an anti-cellulite pants back in 2004, the Portuguese brand Tiffosi followed suit and Gsus Industries sells jeans containing aloe vera at European trade show,
Bread & Butter
. 

In an attempt to increase its womenswear market share, Wrangler has also launched its Wrangler Denim Sculpt, a type of push-up jeans. Many jeans manufacturers with lopsided men's business, such as Levi's, are making similar efforts to conquer the women's market.
Copyright © 2023 FashionNetwork.com All rights reserved.