Xavier Clergerie: "A show should never be the same"
In almost exactly a month, on the 30th of June, Who's Next Prêt-à-Porter Paris will open its doors at Porte de Versailles. It will run until July 3rd. This will be a significant event in at least two respects: this is the second edition that is the product of the consolidation of the two fashion fairs in Paris. It is also, and notably, the first edition to be held in late June early July, between Pitti Uomo and Bread & Butter. Might this (perhaps?) concern its organizers and primarily one of the leaders of WSN, Xavier Clergerie? According to what we're told: there is no stress on the horizon.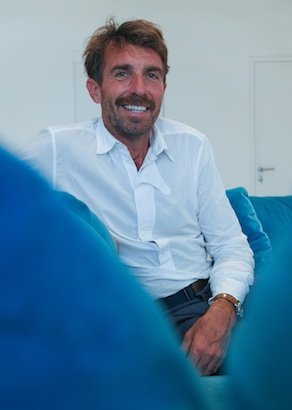 Xavier Clergerie / Photo: Pixel Formula
FashionMag: You are one month away from the start of the show. How do you feel?
Xavier Clergerie
: What can I say? It's going very well. I did not have a lot of concerns with regard to the June date. Today, the marketing phase is over and done with. We will have the same number of exhibitors as we did last January - just over 2000. Which is to say that we've had no real defections due to the advanced dates. Certainly, we will find a decrease in the surface area of the stands themselves, especially in the
Private
sector (where the offering is more traditional, ed.), but the exhibitors in this sector were used to very large stands. Also, we could see that the brands in this sector had concerns about not being ready on time. They also worried about the impact of the dates on French visitors (the beginning of the show coincides with the first weekend of nationwide sales, ed.) And these are brands that have a significant presence on the French market. One might say that for this session, they decided to conduct a test.
FM: And as for the creative labels? How have they followed you?
XC
: They were the first to register. June is important to them. They are in motion. Their teams are currently flying over to complete their collections. These are brands positioned in a niche and which therefore have an international agenda. In any case, everyone criticized the move of the salons to June. Now almost no one speaks of the change in the calendar.
FM: How do you communicate with potential visitors, for example?
XC
: We did a lot of phoning. Our agents (in 30 countries, ed.), conducted various operations with about 2000 contacts. In France, we educated more than 5,000 retailers. at the end of the last show we invited the guests to come to the June edition. This was one way to get involved more than usual. We have regulations in terms of the number of foreigners and, given the good skiing in France, to be honest, we are ahead in pre-registrations.
FM: You've reworked the organization of the show this session with a lot less range geographically among the sectors, as compared to last year. Why is that?
XC
: First you must know, there is a rule in WSN, and I work like that. Future strategy flows from things as they are today. It was not planned in advance. We decide on something and we look to see how it works. And we move on and make adjustments if they prove necessary. A show should never be the same. At Who's Next, we voluntarily change our plans each season. I would even go one step further and say that even when we choose a carpet color, it is never trivial. We have reviewed some segmentations. Le Cube, which includes traditional leather goods, will consist of 80 brands. The creative heart that is First Class was repositioned to hall 3. But frankly, we should not simply focus on the locations. I have an early example for those who remember. The Group des Halles (the most creative Ready to Wear group in Paris during the 1980s, ed.) and its creative labels were located on the show's third level. It enjoyed tremendous success because it had had brands that were relevant at the time. It is the offering that makes the difference. You never know in advance what the limits are for a sector and a market. Our goal, as in Mess Around, is to arrive at a vision, from ideas to traditional distribution. We believe in the multi-brand retailer and the show caters to it.
FM: Precisely, a trade show is geared primarily to these multi-brand retailers. These are in a way your customers... What do you think of their situation?
XC
: I believe in multibrands. Today we have a wealth of information and offers on the internet. This medium expands the field of action. In response, the consumer needs a guide and counsel. The retailer should know how to inspire. As should a trade show. On the internet, you do not dream. Fairs should therefore help more and more retailers to find their way. Equip them to compete.
FM: Let's talk about the show's message, you have chosen a particular theme that we find even on the visuals...
XC
: Indeed, we have retained a medieval theme. This is part of the return to nature, organic agriculture, research of such expertise, as well as to best values. We see a return to the original building-blocks, a certain classicism. This brings to mind the chain mail side: in different sectors, we have worked in our way on the medieval aspect. There will be sculptures made of straw bales, flags, banners. The goal is to shake up and excite the senses to the fullest. The show, Porte de Versailles, must be a great fashion event, but the fashion will be present in all its colors...
Copyright © 2023 FashionNetwork.com All rights reserved.