Xavier Clergerie and Bertrand Foäche talk about the creation of "Who's Next Prêt-à-Porter Paris"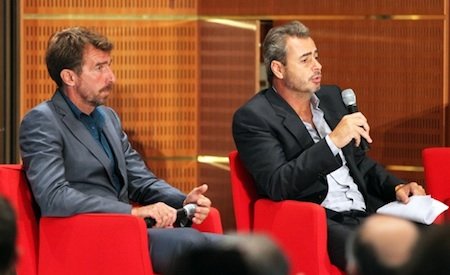 Xavier Clergerie and Bertrand Foäche at the press conference, explaining the details of their upcoming "Who's Next Prêt-à-Porter Paris" fair
FashionMag.com:
Why did you change the dates for the fair from Septemer to the end of June?
Xavier Clergerie-Bertrand Foäche:
This was actually an old debate. We had tried to do it before with
Jean-Pierre Mocho
(ed. note: the chairman of the French Federation of Women's Ready-to-wear, and former president of
Sodes
, the trade show organiser in charge of Prêt-à-Porter Paris), but there were some conflicts of interest. Now that all trade shows are in the same hands it was easier to shift the event to the end of June, beginning of July.
FM:
But why those dates?
XCBF:
They correspond better with today's buying cycles. September falls at the very end of that cycle, so by placing ourselves before
Bread & Butter
and after Pitti Uomo we are now at the very centre.
FM:
Do you think that the Berlin trade shows could perceive this as a threat to them?
XCBF:
It would be wrong to do so. Each fair has its own specificities. On the contrary, the new dates allow international buyers, whom we really want to attract to our fair, to pass through Florence, Paris and then finally Berlin. We are making their travelling between shows easier. Paris needs to be at the same level as its counterparts. Berlin's
Premium
, for example, is growing every day.
FM:
The dates you have chosen also fall at the end of the Paris Menswear Fashion Week and at the beginning of the Haute Couture catwalk shows. Why?
XCBF:
It will create a nice flow between events and also extend the fashion week in Paris. This will strengthen the French capital's position in the industry.
FM:
Did you discuss the matter with the French Federation of Fashion and of Ready-to-Wear of Couturiers and Fashion Designers?
XCBF:
Of course, we spoke to
Didier Grumbach
, the president. It seemed like a logic thing to do. Furthermore, our menswear segment will mean that Parisian trade shows will play a more important role in men's fashion, with
Tranoï
,
Capsule
and now us. The goal is not to compete against Pitti Uomo, which is a huge trade show, but rather to have our own offer in Paris.
FM:
During the press conference you gave Saturday morning, you kept mentioning Mr. Brown, your menswear fair. You even spoke of a strategy for the male sector?
XCBF:
As we said before, it is not a question of trying to recreate Pitti Uomo. Our offer in this sector will mostly rely on our womenswear brands that are launching a men's range, which is something we see happening more and more frequently. One could say that we have more of a French vision of the men's sector. At Pitti Uomo for example, international buyers are more interested in finding purely Italian products, in particular Asian buyers.
FM:
You said you are going to spread the sectors around the main central road that leads to the other halls at Porte de Versailles. What is the layout going to be like?
XCBF:
It is too early to know, but what we can say is that the main avenue will be an integral part of the trade show. All sectors will have the same entry point.
FM:
You did not include a separate "ethical trade" sector to your offer. Why?
XCBF:
We organise fashion trade shows. For us, having ethical guidelines is a normal, logical practice. We are not going to distinguish certain brands for being ethical as if it was not the norm. Ethical brands will be allocated to different sectors depending on their fashion style.
FM:
As for the cost of having a stand at the fair, are you also going to merge the prices?
XCBF:
The general rules will be those of Who's Next, but the same ones already applied to Prêt-à-Porter Paris before the merge. They will certainly be different for Mess Around though.
FM:
What will become of fast-fashion fair Sixty Days in the midst of all of this?
XCBF:
We'll see. Sixty Days has only just had its first-ever edition. We are going to talk to
Eurovet
, who are organising Sixty Days with us, to discuss where we should allocate our fast-fashion exhibitors. One can already find this sector in other trade shows at the Porte de Versailles.
FM:
At the press conference, you were faced with criticism from some footwear brands. Do you think that the end of June is a good time for this market?
XCBF:
Someone said to us that the Chinese would come to Paris to copy the products and then sell them at Micam in September. But we base our decisions on real facts about the market. Jean-Paul Leroux (ed. note: founder of Mess Around) knows his market inside out, and our decision was obviously made with his consent. We believe that brands can be ready for the change, but that does not mean that we may not lose a few exhibitors... or even gain new ones.
Copyright © 2023 FashionNetwork.com All rights reserved.