Y-3 partners up with the artist Momo
He has figured in the ready-to-wear catwalks for the season autumn/winter 2010 for Y-3 in New York, but in the Fall it will be with a limited edition series of trainers and clothes where you will be able to find the psychedelic style and color of the "urban" artist Momo.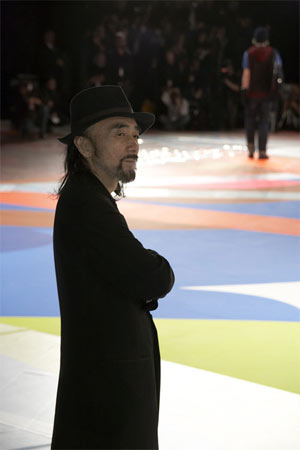 Yohji Yamamoto standing on Momo's floor art at Pier 40 - Photo: momoshowpalace.com
Last March, whilst Momo had transformed the floor of Pier 40 into a work of art, colourful and pictoral, the designer
Yohji Yamamoto
presented his collection, declaring that "… energy… music… art… ethnic diversity… the movements of New York which constantly inspire me and are reflected in my expression in Y-3. I wanted this collection to be very urban, like everything that I like when I think about New York… Momo was therefore the ideal partner to make my vision a reality." This vision has now taken on a new form and the work from the two men will cover off-the-peg clothing and shoes.
In fact, a series of catwalk items – blazers, t-shirts and trousers – have been customized by the artist, with a motif of stenciled colors, silkscreen prints and a fun touch. Thirteen items of clothing will be available in all; for trainers, the headline model of Y-3, the Hayworth High, is being refitted with the geometric and colorful influences of Momo. Three types of trainer will be released, each issued in only 120 examples. The whole collection will be on sale in Y-3 boutiques from September 2009.
By Jonathan Fulwell (Source: Emilie-Alice Fabrizi)
Copyright © 2022 FashionNetwork.com All rights reserved.