Yves Saint Laurent picks Emily Blunt for Opium
The English actress will become the new face of the Opium fragrance by Yves Saint Laurent (the L'Oréal group), following in the footsteps of Kate Moss and, more recently, Karen Elson. She will soon be at the center of a print campaign shot by Patrick Demarchelier and a television advertising campaign shot by Romain Gavraset.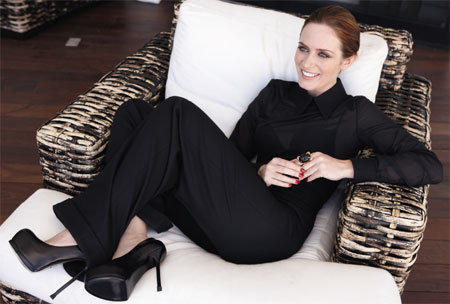 Emily Blunt, the new face of the Opium fragrance by Yves Saint Laurent
Released in 1977, Opium by Yves Saint Laurent had quickly distinguished itself with its oriental, woodsy and spicy notes amidst a sea of floral fragrances popular at the time. This gamble, which was a brazen one considering marketers' predictions of the perfume's swift impending demise, had instead quickly become a real success story, one which has lasted for more than three decades.
In its trail we still find the same woman - sensual, provocative and elegant. "Opium is more than just a perfume: it is a myth, which entails the history and values of the brand," mused Renaud de Lesquen, president of YSL Perfume & Designer Brands. And to represent her, he has chosen Emily Blunt.
Having made her breakthrough in the Devil Wears
Prada
, where she portrayed the neurotic assistant to the tyrannical editor played by Meryl Streep, Emily Blunt then had roles in Charlie Wilson's War, Sunshine Cleaning, The Wolfman, The Agency, as well as playing the title character of the Queen Victoria in The Young Victoria. Soon, she will be seen in The Muppets and The Five-Year Engagement.
Prior to that, however, we will see her on the print and outdoor campaign, shot by Patrick Demarchelier. A campaign that will uveil "a fiery, almost reckless woman with magnetic seduction, that nobody or nothing can resist," according to Nathalie Duran, Deputy General Manager Yves Saint Laurent Parfums. A campaign that should take care not to engender the wrath of the British censors. Case in point: the television ad for Opium
Belle
which features the French actress Melanie Thierry, was deemed by the British Advertising Standards Authority which sensored it to have glamorized the drug and encouraged its consumption. A decision that was nevertheless considered excessive by many.
The perfume, released last year, and marketed as a "modernized" version of Opium, much like Shalimar - Parfum Initial launched by
Guerlain
in the footsteps of Shalimar, it was aimed at a younger clientele familiar with the scent woodsy spicy scent of the legendary Opium.
Copyright © 2023 FashionNetwork.com All rights reserved.