Yves Saint Laurent's ashes scattered in Marrakesh
By Tom Pfeiffer and Hassan Alaoui
MARRAKESH, Morocco (Reuters) - Friends of Yves Saint Laurent scattered his ashes on Wednesday in the botanical garden in Marrakesh where the reclusive fashion designer found inspiration and refuge from fame.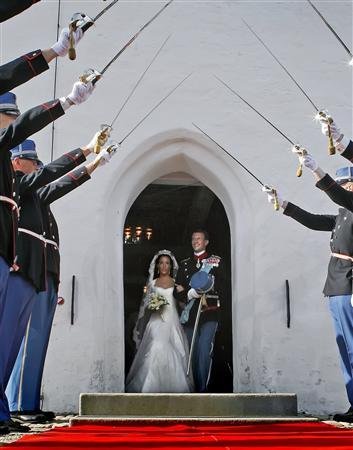 More than 100 guests including French former culture minister Jack Lang and fashion designer Paloma Picasso joined the private ceremony at the garden where bulbul birds sang in the trees and sunlight bounced off pools of cool water.
Saint Laurent and long-time companion Pierre Berge bought the Majorelle Garden in 1980 and gave a new lease of life to its cobalt blue walls and lily pools standing among cacti, bamboo, palms and agave.
Today its quiet pathways and small museum of Islamic art are popular with tourists dazed from visiting the city's narrow, dusty streets crowded with donkey carts and beeping mopeds.
"I am very happy that he chose Marrakesh, this magical place, to rest for eternity," Lang said.
Saint Laurent was credited with changing forever what women wore and was the first designer to make luxury labels accessible to a wider audience through innovative read-to-wear collections.
But he also struggled with the pressure of fame and suffered from alcohol and drug addiction. Friends say he found peace and seclusion in the gardens, often retreating there after stressful fashion shows.
The designer was born and raised in the then French colony of Algeria and found something familiar in Marrakesh when he and Berge arrived there in the late 1960s.
Morocco inspired some of the daring color combinations in Saint Laurent's creations -- orange with purple, pink with red -- that earned him a reputation as the designer with the best color sense of the 20th century.
MEMORIAL
"I remember we used to drive up to the mountains near Marrakesh," said long-time Marrakesh resident Bill Willis, a close friend of Saint Laurent who designed his villa.
"We would see Berber peasant women carrying their bundles of firewood who wore the most wonderful color combinations -- he inspired himself a lot from that."
The city's peasant lifestyle amid opulent town houses also helped inspire Saint Laurent's ethnic look that became popular with hippies.
At the height of the free-wheeling 1960s, he and Berge would entertain friends at their Marrakesh palace, including Saint Laurent's muse Loulou de la Falaise and Talitha Getty -- the fashionable wife of John Paul Getty -- who died of a heroin overdose in 1971.
When they bought the gardens, laid out by French painter Jacques Majorelle in the 1920s, Saint Laurent and Berge helped bring a cachet to Marrakesh that propelled it into world tourism's major league.
First adventurous Westerners moved in to restore houses in the old medina. Now construction cranes have joined the palm trees and Atlas mountains that form the city's backdrop.
Large hotels and golf resorts have sprung up, bringing much needed jobs to a poverty stricken region but removing much of the charm that drew creative foreigners in the 1960s.
After Saint Laurent's ashes were scattered, a memorial to his memory was unveiled at his villa in the garden, staff said.
(Writing by Tom Pfeiffer)
© Thomson Reuters 2023 All rights reserved.