Zadig & Voltaire to sell stake to US fund-report
PARIS - Fast-growing French fashion brand Zadig & Voltaire has sealed a deal to sell a 30 percent stake to U.S. private equity buyer TA Associates, valuing the company at around 380 million euros, Le Figaro newspaper said on Monday.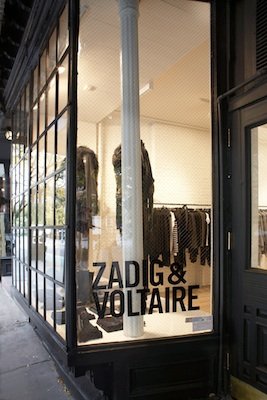 Zadig & Voltaire on Bleecker Street, New York
The French daily, which did not disclose its sources, said the deal could be announced "in the coming days" and will help Zadig & Voltaire accelerate its international expansion
Zadig & Voltaire, created in 1995 and known for its urban style with a rock spirit, had sales of 130.6 million euros and earnings before interest, taxes and amortisation of 34.2 million in fiscal year ended July 31, 2011.
The company was not immediately available for comment.
© Thomson Reuters 2023 All rights reserved.