Zale gets month-long breather from Citi on penalty
By Phil Wahba
NEW YORK, March 30 (Reuters) - Jeweler Zale Corp (ZLC.N) won breathing room from Citibank (C.N) on Tuesday 30 March by getting an extra month to decide whether to pay a penalty for low sales generated by its private label credit cards issued by Citibank or lose its relationship with the bank.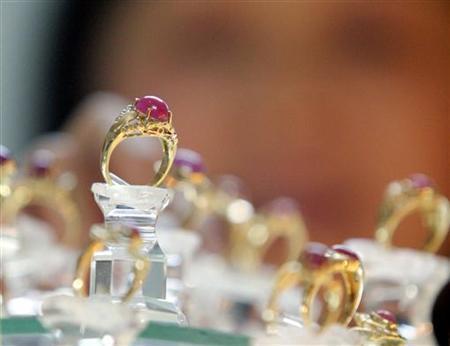 Citibank has agreed to extend the payment deadline to April 30 from an earlier deadline of April 1, according to a filing on Tuesday 30 March with the U.S. Securities and Exchange Commission.
Zale's shares closed down 18.8 percent, or 61 cents, at $2.63 on the New York Stock Exchange.
Earlier in March, Citibank, a unit of Citigroup, warned Zale that it would end their private label credit card relationship within 180 days, far ahead of schedule, if Zale did not pay $6 million to make up for a shortfall in sales.
Under their agreement, Zale guarantees Citibank a certain amount of return on the credit cards based upon sales. Any shortfall must be made up in penalties.
Citi advised Zale in December that it would not renew that agreement when it expires in March 2011.
Zale said in the filing that it "continues to evaluate available alternatives" to its deal with Citi.
The Dallas-based chain, which has more jewelry stores in North America than any other jeweler, has grappled for more than two years with declining sales, market share and cash reserves. Last month, Zale hired turnaround expert Peter J. Solomon Co to help it find investors.
A source familiar with the situation said on Monday 29 March that private equity firm TPG is interested in Zale, but it was unclear whether all or part of the company could be sold.
Last week, the Wall Street Journal reported that Zale was in talks with private equity firm Sun Capital Partners Inc.
Zale posted a better-than-expected profit last month, but it continues to lose market share to its main rival in the United States, Signet Jewelers Ltd (SIG.N) (SIG.L). Signet operates the chains Kay Jewelers and Jared The Galleria of Jewelry.
Zale's sales at stores open at least a year fell by 11.2 percent during its second quarter.
Because of its declining sales, vendors have been reluctant to extend credit to Zale, experts have said.
As of March 15, 12.3 percent of Zale shares were held short by investors betting shares would fall. That is below the short interest a month earlier, before Zale reported its profit, but still far above the 3.5 percent average for New York Stock Exchange-listed stocks. (Reporting by Phil Wahba; additional reporting by Megan Davies; editing by Andre Grenon)
© Thomson Reuters 2023 All rights reserved.