Zumiez plans European expansion for 2013
Digest the acquisition of Blue Tomato and thoroughly analyze the European market, such was the message from Zumiez management on the European market during the presentation of their results for the second quarter of 2012. The American group, boardsports retail specialists in North America, tempered the enthusiasm of its shareholders regarding its European expansion.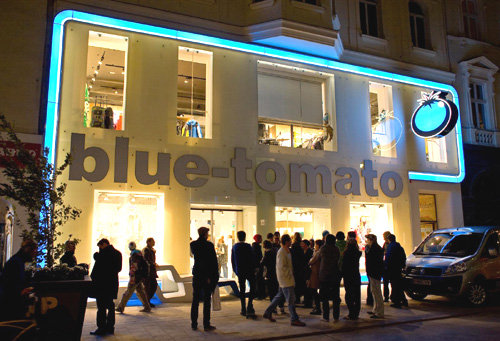 Blue Tomato store in Vienna. Photo Blue Tomato

"We are looking at the long term," emphasized Rick
Brooks
, CEO of the American group. "We know that there are opportunities, especially in the German and French markets, but the models are different from those we know in the United States. We need to really understand and analyze these markets." 
Next quarter will not see the opening of a major number of stores in Europe. However, the group continues its expansion strategy in North America with fifty openings planned for the current year, including ten in Canada. 

To do this, Zumiez intends to rely on Blue Tomato, acquired before the summer for around 60 million euros. The Austrian multibrand owns brick-and-mortar stores, but was most successful in its development of e-commerce in fourteen countries. 

Zumiez can afford this foothold in Europe. The group posted an increase in sales of more than 20% to $135 million (107 million euros) in its second quarter ended July 30, compared to the same period last year. On a comparable basis, the group recorded nearly a 10% increase. Operating profit increased from 3.5 to 3.8 million dollars. For the next quarter, the group is expecting 181 to 185 million in net sales.
Copyright © 2023 FashionNetwork.com All rights reserved.